Becoming More Just
May 2023
by Rachel White
Byggmeister recently received a Just Label from the International Living Future Institute (ILFI), a nonprofit working to create a society that is socially just, culturally rich, and ecologically restorative.  The Just Label is a "nutrition label for socially just and responsible organizations."  For over a year, Byggmeister's Justice, Equity, Diversity, and Inclusion team (JEDI) worked to secure our label. I sat down with Emily Sills and Frank Dill, two JEDI team members, to discuss why we undertook this, what we learned, and where we go from here.  
RW: Why did the JEDI team decide to pursue a JUST label? 
FD: The company had committed to becoming more just, equitable, diverse, and inclusive. But we were struggling to get started. JUST helped us gain traction.  
RW: How does JUST define social justice and responsibility?  
ES: JUST looks at a wide range of metrics including racial, ethnic and gender diversity and how employees are supported across these differences. It looks at pay equity and benefits, support for local communities, and responsible sourcing and purchasing. These are just some examples. It's a comprehensive program.  
FD: Many of these issues were already on our radar, but others we hadn't considered before we started working on the JUST label.  
RW: It sounds like JUST pushed us to think more broadly about social responsibility. Can you say more about this?  
FD: JUST encouraged us to gather employee input and develop programs that respond to what employees want. For example, for the employee health and well-being metric we surveyed employees about how well our current benefits meet their needs, and we asked what additional programs would be valuable. Our management team is now considering this input as they budget for next year. 
RW: What other changes has JUST inspired? 
ES: Probably the biggest change so far is that we wrote a lot of new policies, which we may not have written otherwise. That may not count as "making changes" but we did have good conversations about where we are and where we want to go.  
FD: JUST also inspired us to make specific commitments. For example, we tied our pay scale to the MIT Living Wage. 
ES: And we committed to a 5:1 pay equity ratio. So, the highest paid person will never earn more than five times what the lowest paid person earns.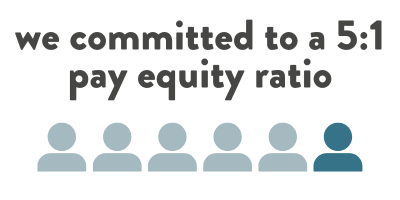 RW: When we introduced the label to the company, I noticed that everyone immediately focused on metrics with lower scores and wanted to know why we hadn't scored better. 
FD: There's something highly motivating about the label. It's a one-page graphic identity that shows us where we are and where we could improve.  
ES: I really like JUST's emphasis on continuous improvement. The label is good for two years. When you reapply, you are expected to have made meaningful progress. It's not like you get a label and you're done. But a low score in any given metric doesn't necessarily mean you are doing a bad job. You are doing better than many companies just by participating.  
RW: Can you give me an example of where we have lower scores?  
ES: We are at level one in racial and ethnic diversity, which isn't surprising. We are a mostly white company, not entirely but mostly. We also are at level one on inclusion, and we can't advance beyond this level without first achieving greater diversity. But we also know that hiring a bunch of Black and brown folks won't make us more inclusive. We also need to make sure that everyone feels welcome and has a voice within the organization.  
FD: Another low score is for gender pay equity, which surprised me.  
ES: The way JUST measures gender pay equity isn't a great match for us. To score higher than level one, you need to have at least five people within each pay class. Because we're a sixteen-person company with a wide range of roles, at most we have 3-4 people within a given pay class. If we want to score higher on this metric, we need to propose another way of measuring. 
RW: What makes you think that JUST might allow us to measure gender pay equity differently?  
ES: Because of my experience working with them on the retirement provision. To score higher than a level one for retirement benefits, JUST requires that companies automatically enroll employees in 401k when they become eligible. When we proposed this to our professional employer organization (which manages our benefits), they said other companies had tried this and gotten feedback that it felt paternalistic. When I shared this with JUST, they agreed that when our employees become eligible for  401k, we could instead schedule a meeting with them to explain the program and help them enroll if they are interested. I think JUST would be similarly flexible with gender pay equity.  
RW: Can you give me an example of where Byggmeister rates highly?   
FD: We achieved a level four in engagement, which I was especially proud of. We conducted a detailed engagement survey, and people's responses really blew us out of the water.  
ES: Across the board, people feel deeply engaged, which tracks with my personal experience. Ours is a company that encourages input from everyone, no matter their position!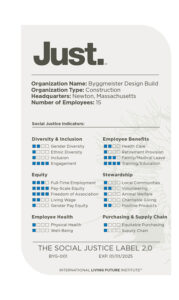 RW: Now that we have the label, where do we go from here?  
ES: We've had some important conversations. We've drafted some thoughtful policies. But policies alone are meaningless. Now we need to make those policies real. 
FD: This feels like the fun part. We get to dig in and start making changes. And with the label in hand, it's been easier to engage other employees. At our last company meeting, we had this great brainstorming discussion about how we might use our charitable giving program to develop relationships with community organizations. And we did a dot voting exercise to learn what additional benefits people would value. Everyone seemed energized by these discussions. 
ES: We know that making changes won't be easy or quick. We may put effort into things that don't pay off. We may have to make some difficult tradeoffs. But the fact that we've made this commitment is deeply gratifying. I feel proud to work for and co-own a company that is striving to be a force for good.